May 15, 2013
These are my notes from Legislative Interim Meetings held on May 15th, 2013. The legislature holds interim meetings 1 day each month when the Legislature is not in Session.
Conservative Caucus Meeting
Chris Martenson is an economist and spoke to the Conservative Caucus meeting.

I tweeted a some of his slides, here are links:
Money is a claim on goods and services; claim on wealth; debt is a claim on money
Money is a trust and a bond we have with one another
Money is loaned into existence
You will always have more debt and than money in a financial system
Tomorrow's growth is the collateral for today's debt
China and India are importing all exported oil
22 year old has had half of world oil burned during their lifetime
24 half of all copper has been mined during their lifetime
The next 20 years will be completely unlike the past 20 years
GDP 1.7% in past decade
Growth as we know it is over
The past will be a poor guide for the future
Risks are enormous, badly understood, and hardly ever talked about
Opportunities are enormous
Black Swans (societal changing catastrophes) will be the rule
Energy per capita will surge as a percentage of income
Food prices will mirror energy; unrest will follow
What will happen to our exponential money (debt) system without growth?
In 2008 we were within hours of total global system collapse
Events will unfold rapidly
Income tax receipts are the best indicator of financial stability
Debts will not be paid back
Who's going to take losses? Taxpayers, states, bond holders
2 easy way outs: default; print money;
Feds printing $85 million a month and propping up the system
Prediction: we have a fiscal crisis because of entitlements
Cut federal budget by 40% or raise taxes by 40% or we will have to keep printing money
We are not in a position to default on loans to china because of our dependence on their imports
We still import 1/3 of the oil we burn
Expect a Dramatic spike in interest rates, just like Greece
PeakProsperity.com
During next depression there will still be a need to pay people, use resources, etc it is just that there is no faith in the economy
We need a Utah Shakeout like practice to prepare for financial bad times
Education Interim meeting
Joint House and Senate committee meeting
 Margaret Bird, Director, School Children's Trust, Utah State Office of Education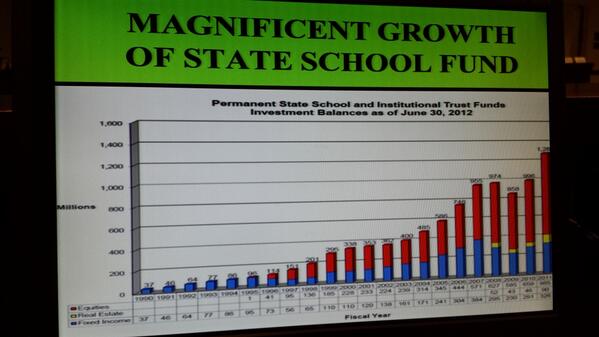 First time in 119 years that we have ever had a report on how the lands are helping the schools
Will get an annual report going forward
In 1785, founding fathers established 1 square mile out of every 36 square miles for schools
Not state lands but school trust lands
Duty to make trust property productive
At statehood we got 6,007,192 acres for school rights
By 1983 half of the acres were sold
State school fund had only $18 million
Funds distributed by School Community Council; must be approved by school board or state chartert school board
$30 million to be distributed to schools in July 2013
Rep.McCay isn't land the best hedge against inflation?
Sen. Stephenson: Growth has been exponential since Margaret Bird managed the school trust lands
In 1983, 2/3 of fund was taken by state govt to balance budget
Large high school will get $100k+ each year. Small elementary will get $30k
Spencer Eccles GOED
1,980 iPads distributed as part of the 3 year pilot program
$2.4 million from HB244
STEM video
Almost all of the 30 fastest growing occupations in the next decade will require STEM education
17% growth
Job seekers outnumber jobs 3.8 to 1
STEM job postings outnumber unemployed 1.9 to 1
HB139 STEM legislation
34% of students that took ACT in Utah or 85% of all high school students did not meet the college readiness benchmark in math
Superintendent Menlove
UT GOP Resolution contains several less than accurate statement about Common Core
The USOE will not adopt standards for that is not adopted locally
Classroom size reductions
We should get data by November interim session for next school year. They are not generating the data from previous years.
During lunch I got to visit with other legislators. This is a photo with Rep. Angela Romero and Rep. Dana Layton.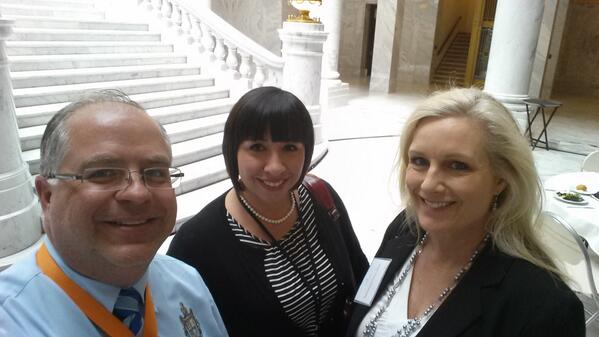 Transportation Committee Mtg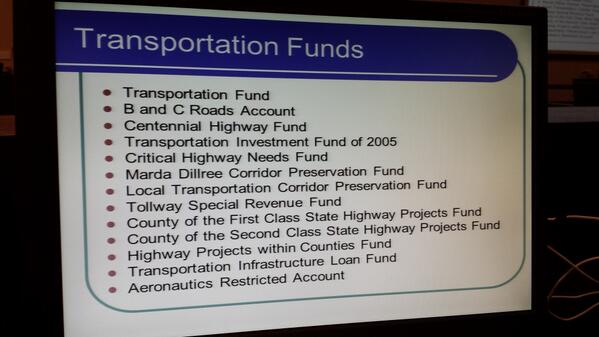 Sources of taxes for transportation:
User fees motor fuel tax
special fuel tax is primarily Diesel
Registration fees
Proportional registration
Highway use tax
Special transportation tax
Current state gas tax is 24.5 cents per gallon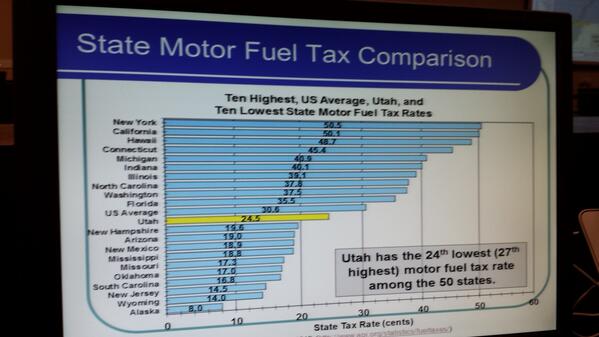 How can we property tax electric vehicles for their use of the roads?
Are there local sources other than B&C?
Transportation funding discussion in Utah presented by Shannon Halversion
Discussion of Transportation Roles and Responsibilities